These are more approaches to the same topic featured in the Teacher's Guide, but just a different way of looking at it. Expect activities to illustrate the topic followed by some questions.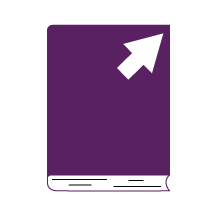 BIBLE STUDY OPTIONS
Option 1. Balancing Act—Numbers 13
Option 2. ± God—Numbers 13-14
Option 3. Not for You—Numbers 13-14
---

Balancing Act
BASED ON NUMBERS 13
MATERIALS NEEDED
A balancing scale (if you don't have one, they can easily be created at home; check out www.youtube.com/watch?v=-S9c9rmHcqg or Google "balancing scale" for examples)

Items to place on either side of the balancing scale, such as pennies, nickels, and quarters OR different sizes of marbles or other objects of varying weight
When you were a child, you may have perceived life in black and white terms, such as  "yes" or "no" or "right" vs. "wrong." By the time you reach your teens you know that life is frequently more complex than that. True, some things are black and white. But others are shades of gray—neither black nor white, or possibly both black and white.
As a child, obeying your parents or guardians was the right thing to do. But as you get older, you discover that sometimes they might not be right 100% of the time. A specific directive, like "Bring your sister home after school every day," might make sense most days, but there are days when it might not make sense. Your sister might have a doctor's appointment, practice for the school play or sports team, etc. right after school. You will usually take her home right after school, but that principle might result in different actions on other days.
This has ramifications for how you respond to God. When God gives a specific directive, is that true every day for all time? When Jesus told his disciples the Lord's Prayer (Matthew 6:9-13), is that the only way to pray? How often should this prayer be repeated? How often do you repeat it?
When God gives us a principle, is there leeway in the various ways we should apply that principle to everyday living? When Jesus told his listeners to store up treasure in heaven rather than on earth (Matthew 6:19-21), how do you apply that in your life? Here are some examples…
Open a bank account at a bank called "Heaven."
Volunteer at your church.
Give money to anyone who asks for it.
Take the shirt off your back and give it to someone else.
Give until you are poor and need to receive gifts from others.
Give only when you have extra.
Wait to get an impression from God before you give.
Wait to get an impression from God before you stop giving.
What else?
Life is complex. Some people have a hard time dealing with this kind of ambiguity or freedom. They may look to someone who will tell them exactly what to do. Some religious people want to find someone who will spell out what they should do so they don't have to wrestle with decisions or dialogue with others and see the world from new perspectives.
Today's Bible story takes place after the Israelites' miraculous release from Egyptian slavery, escaping Pharaoh's army and passing through the Red Sea, God's guidance with a cloud, miracles including daily manna and water from a rock, God's revelations at Mount Sinai, and the construction of the wilderness sanctuary. Before heading into the Promised Land of Canaan, God has Moses send one representative from each of the 12 tribes to explore the land in advance.
QUESTIONS
What stands out about what God has done so far for his people since their freedom from Egyptian slavery?
What are examples of daily miracles the Israelites experienced?
What are examples of occasional or rare miracles the Israelites experienced?
What is the likelihood that God will take them all the way into Canaan?
What could prevent them from achieving God's plan?
If you had been selected as one of the 12 spies, how would you describe your mission?
Let's read about the 12 spies God has Moses send into Canaan to scout out the land and bring back a report. This can be found in Numbers 13 (NIV):
1 The Lord said to Moses, 2 "Send some men to explore the land of Canaan, which I am giving to the Israelites. From each ancestral tribe send one of its leaders."
3 So at the Lord's command Moses sent them out from the Desert of Paran. All of them were leaders of the Israelites. 4 These are their names:
from the tribe of Reuben, Shammua son of Zakkur;
5 from the tribe of Simeon, Shaphat son of Hori;
6 from the tribe of Judah, Caleb son of Jephunneh;
7 from the tribe of Issachar, Igal son of Joseph;
8 from the tribe of Ephraim, Hoshea son of Nun;
9 from the tribe of Benjamin, Palti son of Raphu;
10 from the tribe of Zebulun, Gaddiel son of Sodi;
11 from the tribe of Manasseh (a tribe of Joseph), Gaddi son of Susi;
12 from the tribe of Dan, Ammiel son of Gemalli;
13 from the tribe of Asher, Sethur son of Michael;
14 from the tribe of Naphtali, Nahbi son of Vophsi;
15 from the tribe of Gad, Geuel son of Maki.
16 These are the names of the men Moses sent to explore the land. (Moses gave Hoshea son of Nun the name Joshua.)
17 When Moses sent them to explore Canaan, he said, "Go up through the Negev and on into the hill country. 18 See what the land is like and whether the people who live there are strong or weak, few or many. 19 What kind of land do they live in? Is it good or bad? What kind of towns do they live in? Are they unwalled or fortified? 20 How is the soil? Is it fertile or poor? Are there trees in it or not? Do your best to bring back some of the fruit of the land." (It was the season for the first ripe grapes.)
21 So they went up and explored the land from the Desert of Zin as far as Rehob, toward Lebo Hamath. 22 They went up through the Negev and came to Hebron, where Ahiman, Sheshai and Talmai, the descendants of Anak, lived. (Hebron had been built seven years before Zoan in Egypt.) 
23 When they reached the Valley of Eshkol, they cut off a branch bearing a single cluster of grapes. Two of them carried it on a pole between them, along with some pomegranates and figs.24 That place was called the Valley of Eshkol because of the cluster of grapes the Israelites cut off there. 
25 At the end of forty days they returned from exploring the land.
26 They came back to Moses and Aaron and the whole Israelite community at Kadesh in the Desert of Paran. There they reported to them and to the whole assembly and showed them the fruit of the land. 
27 They gave Moses this account: "We went into the land to which you sent us, and it does flow with milk and honey! Here is its fruit. 28 But the people who live there are powerful, and the cities are fortified and very large. We even saw descendants of Anak there. 29 The Amalekites live in the Negev; the Hittites, Jebusites and Amorites live in the hill country; and the Canaanites live near the sea and along the Jordan."
30 Then Caleb silenced the people before Moses and said, "We should go up and take possession of the land, for we can certainly do it."
31 But the men who had gone up with him said, "We can't attack those people; they are stronger than we are." 32 And they spread among the Israelites a bad report about the land they had explored. They said, "The land we explored devours those living in it. All the people we saw there are of great size. 33 We saw the Nephilim there (the descendants of Anak come from the Nephilim). We seemed like grasshoppers in our own eyes, and we looked the same to them."
QUESTIONS
What is the good news in this story?
What is the bad news in this story?
How much is good news and how much is bad news?
If you had been one of the spies, would you have sided with the majority (10) or the minority (2)? Why?
Would it make a difference what your friends said? Why or why not?
If you had been one of the Israelites listening to the report, would you side with the majority or the minority? Explain.
What created the intimidation? Was it reasonable or unreasonable?
Where is the power of God in this report?
What was God doing while the report was given and the people were listening?
Can you think of examples in your life when you've heard a mixed report that contained both good and bad information? How did you deal with the conflict and uncertainty?
ACTIVITY: CHECKING THE BALANCE
QUESTIONS
What surprised you about weighting these different responses?
How do you decide how much weight to give the various responses?
Are there any responses that, by themselves, outweigh everything?
What do you do when someone else weighs something differently than you weigh it?
Is this the type of thing that happened with the spies after they scouted Canaan?
Why did the Israelites go with the report of the 10 rather than the report of the 2?
What could Caleb and Joshua have done to sway the other 10?
What could they have done to sway the Israelite camp?
Where does this kind of thing happen in your world?
What part do you play in this?
What influences weigh high for you?
What influences have little impact on you?
See Option A in the Application section for some specific ways to apply this lesson to the youth for the coming week.
SUMMARY
After taking his people out of Egypt, drowning their enemies, showing himself at Mount Sinai, and providing for the Israelites' physical needs in the desert, it seems obvious that nothing was going to stop Yahweh from taking his people right into the Promised Land of Canaan. But the report from the majority of the spies led the people to believe that "giants in the land" were too much for Yahweh. When weighing the evidence, greater weight was given to some things than to others. God seems to be left out of the weighting, and the result was a grasshopper complex in the eyes of the majority. Caleb and Joshua saw the same thing, but had an opposite response.
---
± God
BASED ON NUMBERS 13-14
MATERIALS NEEDED
Masking tape to put a line on the floor

"Half Full or Half Empty" handouts

"Half Full or Half Empty" slides

Permanent markers

Eco-friendly balloons (two per person)

Small tank of helium (can be purchased at a party supply store or Walmart)

Optional materials if you choose something other than balloons and helium: streamers, banners, bubbles, flags, etc.
(Please put the buttons here to download the "Half Full or Half Empty Handout" in Word and in PDF formats here, followed by the "Half Full or Half Empty" PowerPoint, Keynote, and PDF formats for the projection files. And then please repeat these at their appropriate place where they are described below.)
Are you more of an optimist or a pessimist?
ACTIVITY
Where would you place yourself on the line:
Most of the time
Today
Tomorrow
When you just accomplished something significant, such as graduation
When a friend just told you they don't want to be your friend anymore
When God seems distant to you
When you're too busy to keep up with everything
When there's a guest preacher at church
When you're the first person to arrive at Youth Sabbath School
When you have a key part to play in Youth Sabbath School
For decades people have asked it this way: Is the glass with water in the lower 50% considered "half full" or "half empty"?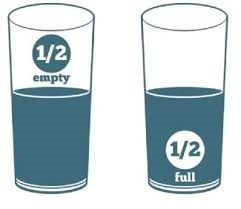 The optimist considers it to be "half full." The pessimist identifies it as "half empty." Both are correct, but their opposite responses indicate their opposite perspectives, which might indicate their typical attitudes.
Supposedly it's more fun to be around optimists than around pessimists, but a person full of optimism might face discouragement if they choose to ignore reality in some situations. Pessimists seem negative, and some have reframed them as "realists" because they think the negative is what "really" happens.
And others have different interpretations for the half full vs. half empty glass scenario.
Pick your favorite statement from the following nine statements:
If doesn't matter if the glass if half empty or half full . . . be grateful that you have a glass.
Be grateful there is something in the glass!
People who wonder whether the glass is half empty or half full are missing the point: The glass is refillable.
Empowered people don't look at the glass as being half empty or half full because they are too busy filling it!
If you see your glass as being half empty, pour it into a smaller glass.
Why is the glass there in the first place? And why is there water all over the floor?
It's impossible for exactly half of a glass to be full.
While you're arguing about the glass of water, I drank it.
You can't look at a glass half full or half empty if it's over flowing.
Now we're ready to compare these attitudes to a Bible story found in Numbers 13-14.
Read Numbers 13:1-33.
QUESTIONS
Who went to spy in Canaan?
Why did they do it?
What was their task?
What did they do?
What was their report?
With whom would you side in theireport? Why?
In the response, what part is dependent on humans? What part is dependent on God?
When momentum builds, emotion carries more weight than facts. And the larger the number of people, and the more influence they carry, the more this will carry the day. If your perspective is different from the facts, just label them as "fake" or "fake news." That's what some people do today. And then repeat your own perspective as the "real truth."
Let's step back from the story and consider whether the following statements are factual. Use a thumbs-up when you hear a true statement, and a thumbs-down when you hear a false statement.
The land of Canaan produces rich and abundant crops
The people living in Canaan are powerful
The cities in Canaan are fortified
Lots of people live throughout different parts of the land, from sea to valley, from river to mountains
The Israelites should go an attack the Canaanites, and possess this land
The Israelites would lose if they attacked the Canaanites
The land devours people who live there
The giants of the land are descended from pre-flood giants (Gen. 6:4)
The spies felt like grasshoppers compared to the giants
The giants looked at the spies as though they were grasshoppers
Read Numbers 14:1-12 and fact check the reality of these statements from the people who heard both the majority and the minority reports from the spies who personally scouted the land of Canaan for 40 days:
This is enough to make us cry all night
Life would be better if they would have stayed in Egypt
Dying in Egypt would be better than their current situation
Dying in the wilderness would be better than their current situation
Yahweh brought the Israelites into the desert so they would be killed
It would be better to return to slavery than enter the land God promised them
We need a leader who will take us back to slavery
We should probably stone Moses and Aaron
QUESTIONS
How accurate is the perspective of the majority?
What do the Israelites add to the report they've received?
How could the minority report get a stronger foothold?
How does this compare with their history over the past 400 years?
How does this compare with their history over the past year?
What part does God play in their perspective?
What part do they play in their perspective?
What part does the little-known information about Canaan play in their perspective?
Where do you see this type of thing happen in your life, family, church, school, and country today?
ACTIVITY
Trust                                                    Mistrust
QUESTIONS
What happened?
What didn't happen?
In what ways have you seen people's emotions or spirits go up or down when these words or phrases are used?
Does it make a different who says this, and how often it is said?
What part does timing play in these statements?
Which types are you most likely to use? Why?
Which types are you most likely to believe? Why?
How does God's activity factor into these statements or how you process them?
How does God factor into your response to these statements if you're not very familiar with God's activity or input?
How can you be more perceptive to God's activity and input?
See the Option B in the Application Ideas section for some specific ways to apply this lesson to the youth for the coming week.
SUMMARY
After the 12 spies scouted Canaan, they reported both good news and bad information. But as they reported their findings to the Israelites, the negative wave seemed to overwhelm the positive elements. The negative provided a frank assessment of what the Israelites could do in comparison to the Canaanites, but it failed to take God's activity into account. And they had reached their current place because of God's obvious intervention. Reading this story can help us to take God's activity in our lives into account so we don't face our realities apart from God's reality.
---

Not for You
BASED ON NUMBERS 13-14
MATERIALS NEEDED
"Not for You" sheet for each participant

Writing utensils

Bible (hard copy or electronic) for each participant
Here is what's included in the downloadable relational Bible study:
Not for You
As a child, what is something your parents chose for you (but you wouldn't have necessarily chosen it for yourself)?
Read Numbers 13:1—14:45.
1. Why did God send 12 men to explore/spy the land of Canaan?
It gave them a taste of what God had in store for His people.
This was to provide a final warning for the Canaanites.
No particular reason; just something to do.
To provide a representative report that would include everyone.
This was a test of their faith in God.
Men usually have a good sense of direction.
He wanted their involvement in the whole "Egypt to Canaan" thing.
Other.
2. What were the 12 spies to include in their report when they returned?
What the land was like.
What the people were like.
Soil testing for farming.
Taste tests.
Likelihood of conquering the inhabitants.
Likelihood of forging a peace treaty.
Determine which neighborhoods would be most desirable.
Religious practices observed in Canaan.
Other.
3. Why did the Israelites cry all night when they heard the report (14:1)?
They hadn't had a good cry in quite a while.
The report was all negative.
God clearly didn't want them to enter Canaan.
It left them with no choice but to return to Egypt.
The bad news outweighed the good news in the report.
They believed the majority.
God's involvement wasn't included in their assessment.
They had forgotten all God had done for them up to that point.
Other.
4. How did Moses respond to God's idea to destroy the Israelites and start over with a new group comprised of just Moses' descendants?
Now we're talking.
The Israelites aren't as bad as you're making them seem.
You must be having a bad day.
These are your people, and it's your reputation on the line, Yahweh.
Confession, and request for forgiveness on behalf of the Israelites.
Just give them another chance.
Reciting God's actions and character traits.
I'm really no better than them, and my descendants won't be, either.
Other.
5. What was God's response to Moses' request?
Get out of my way.
Forgiveness for the Israelites.
Punishment for the Israelites.
Reward for Caleb and Joshua.
God answered the people's request to just die in the wilderness.
Form a committee to make a plan to enter Canaan.
The 10 negative scouts died by God's plague.
Let's try this again.
Other.
6. What was wrong with the Israelite's late attempt to enter Canaan?
Their timing was all off.
This demonstrated another example of them doing their own thing.
They did the exact opposite of what God told them to do.
It was based on avoiding the consequences of their previous choice.
They couldn't overcome the Canaanites in the land.
It seemed like a good idea to them, but it wasn't a good idea to God.
They tried it without the ark of the covenant.
God wasn't with them in their actions.
Other.
7. Why didn't God's people follow his directions? Why don't you?
8. What has God done for you (but you often forget it)?
See Option C in the Application section for some specific ways to apply this lesson to the youth for the coming week.
SUMMARY
As an outsider reading this story, it's sometimes hard to imagine that God's people could consistently do the exact opposite of what God asked them to do. We also see the influence of people who report to others what they have seen, and how that influence can spread. This includes lots of talk that is actually false information and faulty assumptions and perceptions, which lead to really, really bad choices. God's grace and anger are both displayed in this passage. And Moses demonstrates God's characteristics and holds these up as the reasons for God to be merciful and forgiving.